From the Director's Desk – March 6, 2013
admin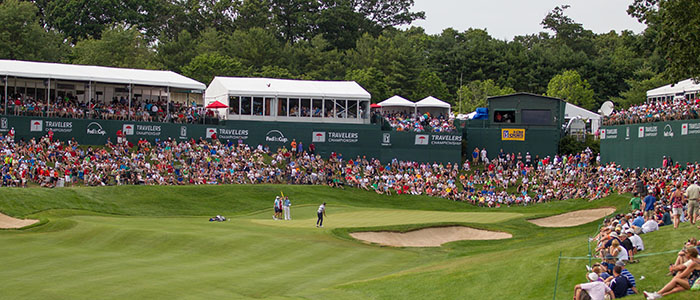 This past week, Travelers Championship volunteer registration opened.  What do you think is the best part of volunteering at the tournament is?
When I speak with the volunteers during the year and at the tournament, a few themes always come up: camaraderie and friendship. People all have stories about friends they have made over the years and people they look forward to seeing once a year at the event. There is a sense of pride and ownership with the volunteers that they are a key component of making this event happen. I think that is probably the best part of volunteering at the tournament.
 Last week, the PGA TOUR stated its opposition to the proposed ban of anchored putters by the USGA and R&A. What are your thoughts on the proposed ban of anchored putters and how it could affect players such as Keegan Bradley and Webb Simpson?
This is an interesting topic that is forging some new ground with the ruling golf organizations (USGA, PGA TOUR, R&A, etc). I think there is a lot of dialogue that will take place in the future on this topic especially since you have golf in the Olympics on the horizon. Regarding the players, these guys are incredible athletes. Whatever decision is reached, the players will play within the established rules and figure out how to compete…and win.
 What do you think are the three most important clubs in golf?
Putter, wedge and driver. If you look at the clubs that people most often have in their hand, it is one of these three clubs. If I was trying to play professionally again, I would spend much more time with these three clubs during my practice sessions.
The Honda Classic, held at PGA National, has a difficult three-hole stretch known as the Bear Trap. What do you think is the toughest three-hole stretch at TPC River Highlands?
I think 16-18 is the toughest stretch. If you historically look at where the tournament has been won or lost on Sunday, it has happened quite often at these final holes. Last year especially with what happened with Tim Clark, Charley Hoffman, Bubba and Marc, this is a great example of what can happen on these final holes.