Saturday, April 29, 2023
FitKids Run: 10:30 a.m.
5K: 11:00 a.m.
Fitness Walk: 11:00 a.m.
Post-Race Celebration: 11:15 a.m. - 12:30 p.m.
Event Overview
Join runners and walkers at the MahoneySabol 5K at the Travelers Championship to race along the Cromwell roads that line the fairways and greens of TPC River Highlands. Both a 5K run and 1.5 Mile Fitness Walk are offered in this HMF charity partner event.
Participants receive a short sleeve technical shirt and a great post-race party.
HMF FitKids: Bring the whole family and enjoy the kids run with options of a ½ mile or 1-mile!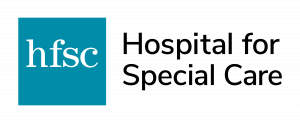 Hospital for Special Care (HFSC) is the fourth largest, free standing long term acute care hospital in the United States and one of only two in the nation serving both adults and children. The Neuromuscular Center at Hospital for Special Care is an ALS Association Certified Center of Excellence, the largest and most comprehensive neuromuscular care center in Connecticut. The Autism Center at Hospital for Special Care has been recognized as the nation's first and only Patient Centered Specialty Practice in Autism, and is home to Connecticut's first and only inpatient autism unit. HFSC is also recognized for advanced care and rehabilitation in pulmonary care, acquired brain injury, medically complex pediatrics, spinal cord injury and comprehensive heart failure. Located in New Britain and Hartford, CT, HSC operates inpatient and outpatient facilities serving Southern New England and the Tri-State area on a not for profit basis. For the latest news and information, please visit www.hfsc.org and follow us on Twitter @HospSpecialCare
Presenting Sponsor