The Travelers Championship is held at the TPC River Highlands, located in Cromwell, Connecticut, just 15 minutes south of downtown Hartford. For detailed information about the local area, please visit the following websites.
Travel
Getting here couldn't be easier! Conveniently located in the heart of Southern New England, Hartford is within a three-hour drive of New York City and two-hour drive of Boston. Bradley International Airport is just 20 minutes from downtown Hartford.
Lodging
Hartford Marriott Downtown-Official Host Hotel
Located in the heart of Hartford, the hotel will be used as the after-hours focal point of the championship. The 409-room Hartford Marriott Downtown rises 22 stories above the Connecticut River. This hotel combines the scale and beauty of a traditional grand hotel with today's contemporary amenities.
Address
200 Columbus Boulevard
Hartford, CT 06103
Phone Number
860-249-8000
Daily Parking
$18.00
Amenities
High-speed internet access, fitness center, pool & spa
Distance to TPC River Highlands
10.71 Miles
Listed below is a selection of the area's preferred hotels, in order of distance from TPC River Highlands.
Address
680 Cromwell Avenue
Rocky Hill, CT 06067
Phone Number
860-257-7500
Amenities
Complimentary on-site parking, spacious studios and suites, fully equipped kitchens, complimentary hot breakfast buffet, indoor pool, fitness room
Distance to TPC River Highlands
3.49 Miles
Address
76 Berlin Road
Cromwell, CT 06416
Phone Number
860-613-0710
Amenities
Complimentary breakfast, parking on-site, free wifi, fitness center, on-site bar with lite fare and indoor pool
Distance to TPC River Highlands
3.9 Miles
Address
20 Waterchase Drive
Rocky Hill, CT 06067
Phone Number
860-563-7877
Amenities
Complimentary on-site parking, Breakfast buffet, Business Center, pool, and fitness room
Distance to TPC River Highlands
4.2 Miles
Address
4 Sebethe Drive
Cromwell, CT 06416
Phone Number
860-635-1001
Amenities
Complimentary on-site parking, on-site restaurant, business center, high-speed internet access
Distance to TPC River Highlands
4.63 Miles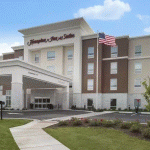 Address
685 Cromwell Ave
Rocky Hill, CT 06067
Phone Number
860-757-3317
Amenities
Complimentary on-site parking, business center, fitness room, pool and complimentary breakfast
Distance to TPC River Highlands
5.2 Miles
Address
One Haynes Street
Hartford, CT 06103
Phone Number
860-246-1881
Amenities
Spacious studios and suites, high speed Wi-Fi, local shuttle service, complimentary hot breakfast buffet, business center, fitness room and yoga studio
Distance to TPC River Highlands
11.6 Miles
Address
1 Memorial Road
West Hartford, CT 06107
Phone Number
860-937-2500
Amenities
Welcome glass of bubbly upon arrival, full breakfast buffet, high-speed internet access, fitness center with Peloton bikes, electric vehicle charging station, valet parking, complimentary admission to the New Britain Museum of American Art, coffee and tea in lobby lounge, guest computer desk, 24-hour concierge services
Distance to TPC River Highlands
19 Miles