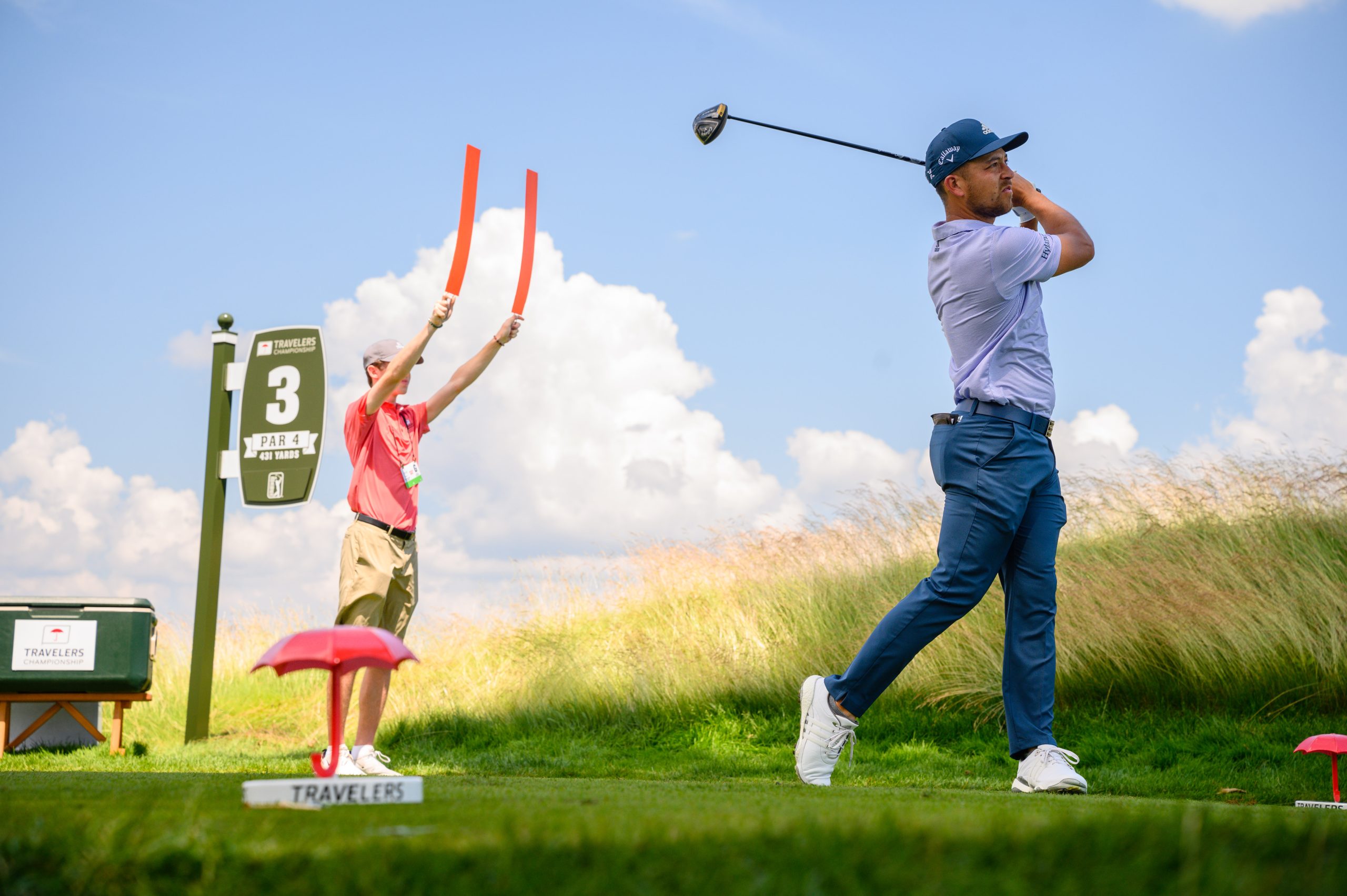 General Questions
Anyone ages 18 & older can sign up for volunteer opportunities at the Travelers Championship. Select opportunities are available for volunteers between the ages of 14 – 17. Please visit our volunteer committee page to view age requirements per committee.
Package pickup will be a scheduled pickup program at TPC River Highlands. Registered volunteers will receive an email with all details to sign up for a time slot and pick up your volunteer package during one of the following dates and time windows.
Saturday, June 10: 9 a.m. – 4 p.m. at TPC River Highlands
Tuesday, June 13: 3 p.m. – 7 p.m. at TPC River Highlands
Thursday, June 15: 3 p.m. – 7 p.m. at TPC River Highlands
Additional Travelers Employee Dates Only
If you are a Travelers employee, you will also have the option to pick up your package on one of the following dates. Travelers will send out communication directly to employees with all details. You do not need to pre-register for these:
Tuesday, June 6: 11 a.m. – 1 p.m. – Travelers Hartford Offices
Wednesday, June 7: 11 a.m. – 1 p.m. – Travelers Hartford Offices at Employee Day
Volunteers will be contacted directly by their committee chairs about specific committee trainings. The majority of committees will have virtual training calls and documents distributed.
This year's Volunteer Party will be hosted on Thursday, September 14, 2023 at TPC River Highlands! More details to come closer to the event.
As long as a volunteer's package has not yet been picked up, refunds can be issued before June 15. After this date, refunds are not permitted.
By charging a modest fee, the tournament is able to reduce overhead costs as a nonprofit organization, ensuring that more proceeds benefit local charities. The Travelers Championship has one of the lowest priced volunteer packages on the PGA TOUR.
The volunteer package is valued at over $600 and not only consists of the required volunteer uniform but also food and beverage during shifts, digital volunteer tickets valid on days not volunteering, a digital guest ticket per day (Wed-Sun), and many other volunteer perks.  We work very hard to keep this cost as low as possible, as we continue to enhance the volunteer experience each year.
Tournament Week Questions
The Travelers Championship is a televised, professional sporting event, so it is important for our volunteers to meet the standards of professional golf. Volunteers are expected to where:
Khaki colored pants, capris, shorts/skorts of appropriate length
2023 red tournament logo'd golf polo (provided in volunteer package)
2023 white hat or visor (provided in the volunteer package)
Closed-toe footwear that is comfortable and predominantly a neutral color
If heavy rain occurs, wear your own black rain gear – light ponchos are available on course if needed
Please note: denim, flip-flops/sandals, branded baseball caps, metal spiked shoes are not permitted while volunteering.
All volunteers park in the Volunteer Lot (Pink Lot). The GPS Address is 674 Main Street, Cromwell, CT 06416.
Please remember that it will take approximately 30 minutes from the time you park and check in at the Volunteer Headquarters until the time you arrive at your scheduled post.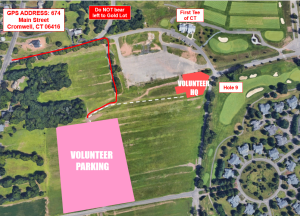 It is recommended to arrive at least 30 minutes early to allow enough time for parking, checking in at the Volunteer Villa, grabbing any food if needed and walking to your committee meeting location.
Yes! One of the great perks of volunteering is that you will receive digital volunteer tickets for each day of the tournament. On days that you are not scheduled to work, we encourage you to come out and enjoy the day!
Please note that if you do not show up for your scheduled volunteer shifts, your complimentary digital tickets will be deactivated.
Volunteers are not permitted to ask for autographs while volunteering and in uniform. However, on days that you are enjoying the tournament as a spectator, we encourage you to follow the PGA TOUR autograph policy outlined below:
Autographs can only be obtained at the designated Autograph Zone at the Practice Facility
On-course autographs are not permitted. This includes, but not limited to tees, fairways, greens and practice areas during practice and tournament rounds
No memorabilia can be brought into the tournament including pin flags, photos, training cards, balls and other sports paraphernalia
In your volunteer package you will receive a clear bag that aligns with our bag policy. We recommend using this bag to carry all your belongings while on-course.
Travel sunscreen is available in the Volunteer Villa, however, we also recommend bringing your own if needed!
Depending on your volunteer position, we recommend bringing a foldable chair to utilize if you are a location based operator, gallery or spotter volunteer. Although a foldable chair is permitted, it must be without the chair bag. In addition, you may bring your own bug spray if your position is outside.
Reusable plastic or metal cups/bottles are permitted, however, they must be empty upon entry. Please note, that there are not refillable water jugs available.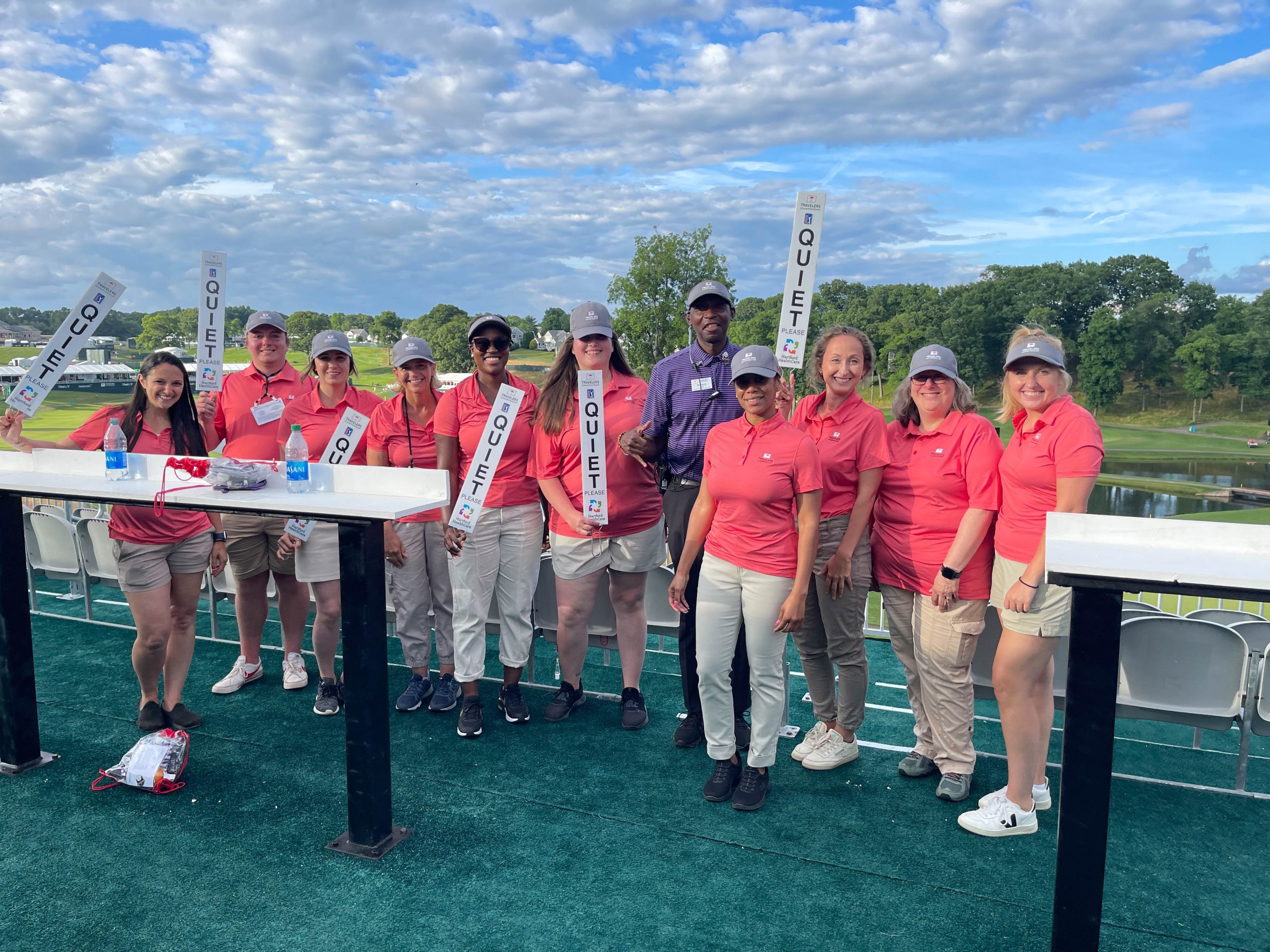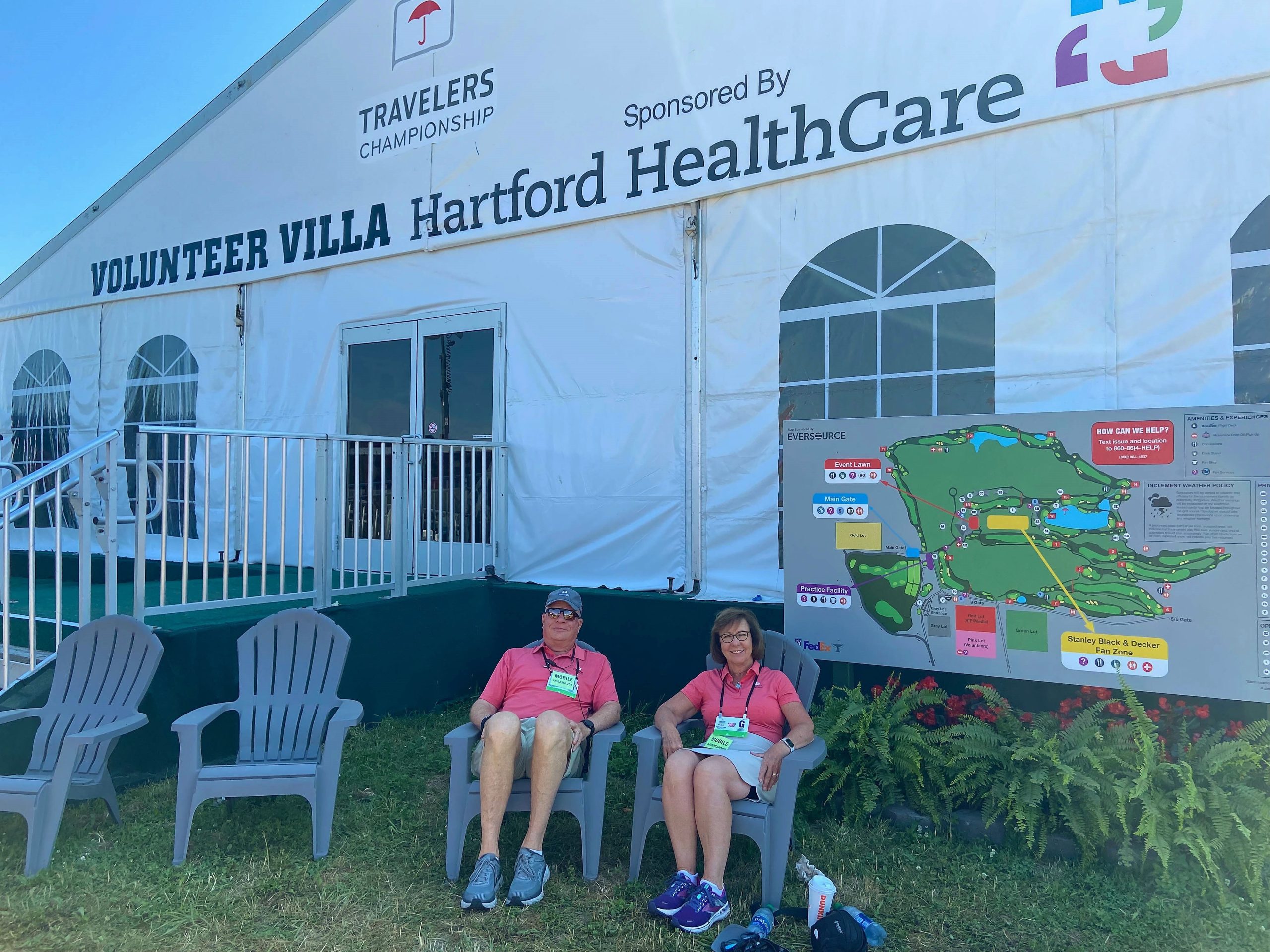 Registration Questions
All volunteers are required to work a minimum of (3) half-day shifts or (2) full-day shifts depending on the committee's requirements.  Please check out the committee page for details on each team's committee requirements.
Committees with a security code mean that the committee is private and has limited staffing. If you are interested in a committee with a security code, please send an email to volunteers@travelerschampionship.com.
In order for your registration to be considered "complete", all volunteers must pay for their volunteer package. Once you have purchased your package, you will then be placed into your committee(s) and shift time(s) within one to three business days. Committee and shift preferences are given on a first-come, first-served basis. If for some reason you have not been assigned a committee, the committee or shifts you selected may have been filled. Please reach out to volunteers@travelerschampionship.com.
Absolutely! During registration, there is a specific question that will ask if there is another volunteer(s) you would like to volunteer with. If you plan to volunteer with more than one person, please collectively chose one person's name as a representative that can be entered during your individual registrations. By doing this, we will be able to easily identify you group members.
Volunteers are most needed on Saturday and Sunday! We encourage you to come enjoy championship weekend from behind-the-scenes.