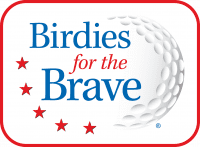 Thank you for supporting Birdies for the Brave
on Tuesday, October 13, 2020
at TPC River Highlands
We were proud to be able to host the annual Birdies for the Brave Golf Tournament during these uncertain times to support the Military Homefront Groups of Birdies for the Brave. Although this year's event looked very different than in the past, we had a great day at TPC River Highlands. Players registered for a tee time for this rare opportunity to play the private, acclaimed TPC River Highlands Golf Course, home of the Travelers Championship, while supporting Birdies for the Brave!
Birdies for the Brave is the PGA TOUR's primary vehicle for supporting the brave men and women of the U.S. Armed Forces and their families. Since 2005, the TOUR has joined with PGA TOUR players and corporate partners to raise millions of dollars for military homefront groups that directly serve military men and women lost or seriously injured in performance of their duty, through fundraising events at TPC Clubs nationwide.
Please click the videos below to view some special thank you
messages from our event beneficiaries!
Birdies for the Brave Homefront Groups