Memorable Moments from Our History
What's your favorite Travelers Championship moment? Every fan has one, along with a great story about being at the course to see an amazing shot or a new champion be crowned. Read on to re-live a few of the tournament's most memorable moments. Then be sure to come out to TPC River Highlands on June 17 – 23, 2024, when even more exciting golf history will be written during the Travelers Championship.
2023 Champion: Keegan Bradley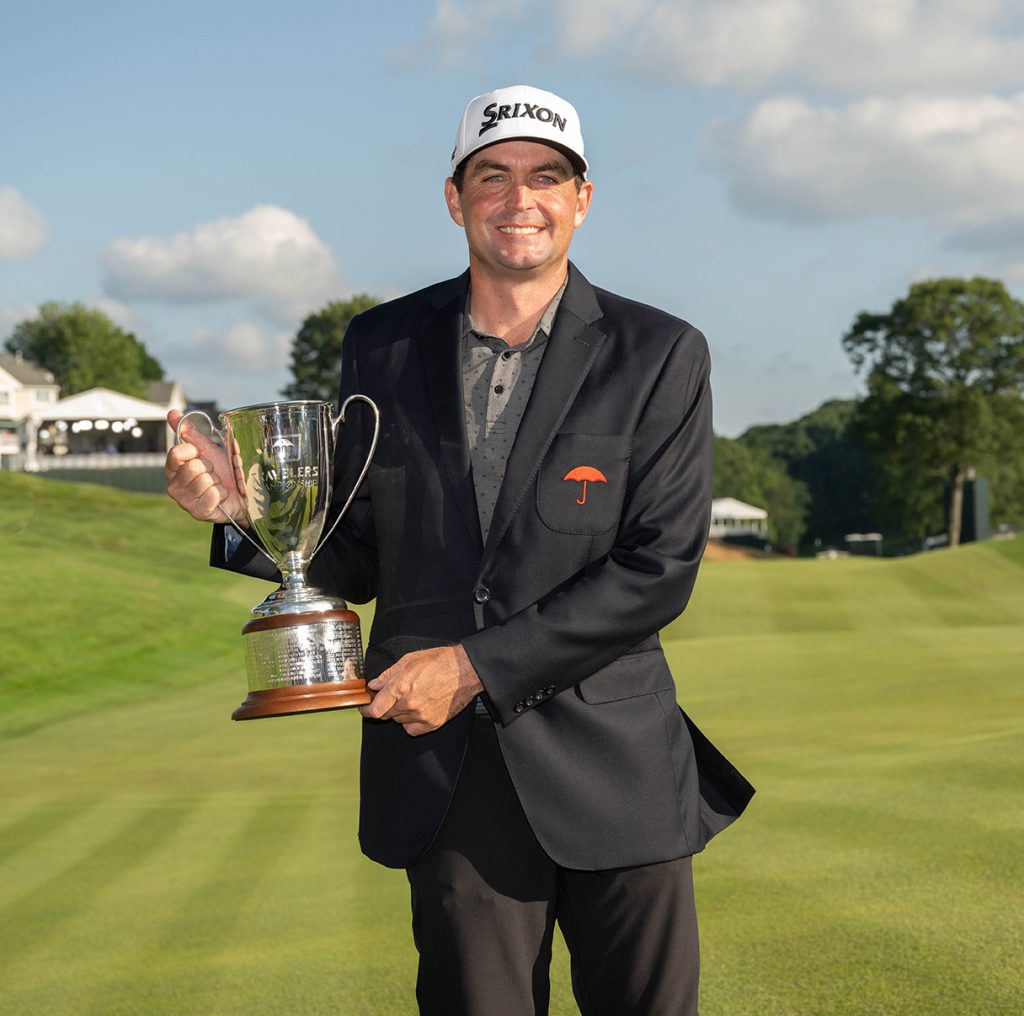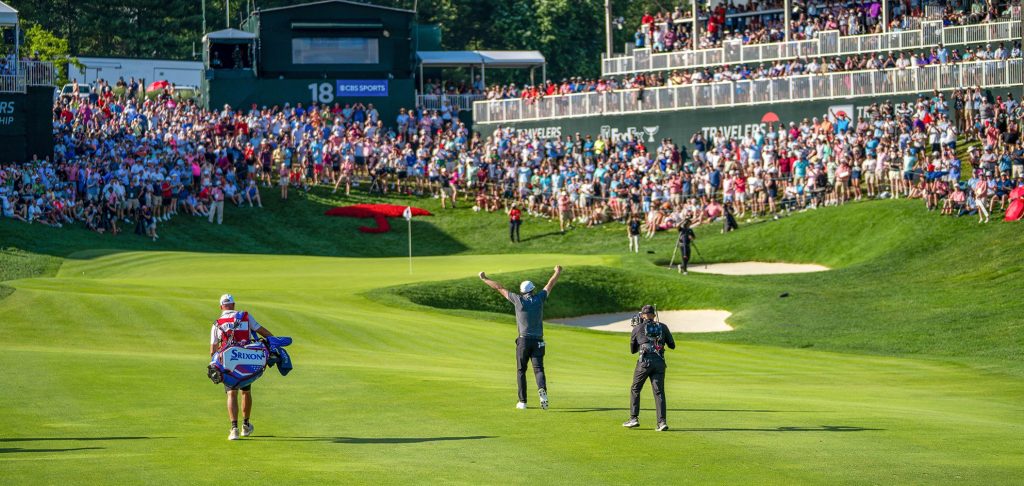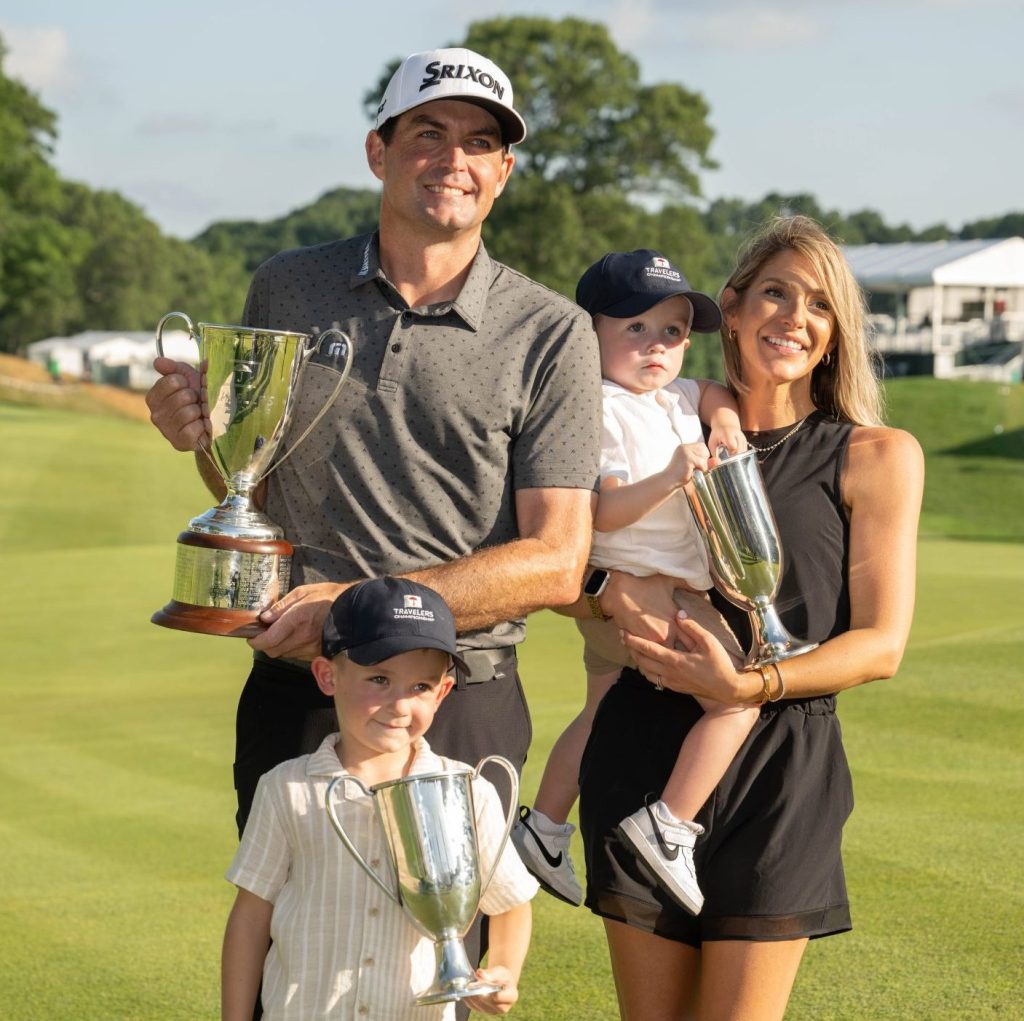 2022 Travelers Championship
Xander Schauffele won the 2022 Travelers Championship on Sunday in dramatic fashion, overcoming a late deficit and finishing with a tap-in birdie. Schauffele, the 54-hole leader, led for most of the day but lost his advantage late in the round. He was able to regain it on the final hole. Trailing Theegala by one stroke with one hole to play, Schauffele watched as the leader needed two shots to get out of a fairway bunker, then hit his fourth shot on the green. Schauffele split the fairway with his drive, while up ahead on the green, Theegala lipped out his putt for bogey. Suddenly needing just a par to secure the victory, Schauffele landed his approach shot 3 feet from the hole, then rolled in the short birdie putt to finish at 19-under and win by two. Schauffele shot a 2-under par 68 in his closing round at TPC River Highlands, winning the tournament over J.T. Poston and Sahith Theegala. It marks Schauffele's sixth career victory on the PGA TOUR, and second of the season.

2021 Travelers Championship
The 2021 Travelers Championship didn't disappoint, giving spectators a record-setting playoff that was finally won with a birdie by Harris English. English rolled in a 16-foot putt on the eighth playoff hole to defeat Kramer Hickok on Sunday for his fourth PGA TOUR victory. The eight playoff holes set a Travelers Championship record; twice before, in 1961 and 1962, a seven-hole playoff was needed to determine a champion. Both English and Hickok birdied the final hole of regulation to finish at 13-under-par 267 and force the playoff. Through the first six playoff holes – playing No. 18 four times and No. 17 twice – the players matched pars. But on the eighth extra hole, English finally pulled through, knocking in the birdie to win the Travelers Championship for the first time and his second TOUR victory of the season.

2020 Travelers Championship
Dustin Johnson won the 2020 Travelers Championship, extending the longest current streak on the PGA TOUR for consecutive seasons with a victory. Johnson shot a 3-under-par 67 at TPC River Highlands, winning by one shot over 2014 tournament winner Kevin Streelman. Johnson finished at 19-under-par 261, capturing the Travelers Championship for the first time in his fourth appearance. It marks his 21st career victory on the PGA TOUR, and gives him at least one win in all 13 seasons he's been on TOUR. Ranked No. 6 in the world at the start of the week, Johnson began the final round trailing Brendon Todd by two shots. Paired in the final group with Todd, Johnson caught him with birdies at Nos. 4 and 5, then took the outright lead after making a short birdie putt at the par-4 ninth hole. He pushed the lead to two shots with another birdie at No. 10.
2019 Travelers Championship
By shooting a final-round 69, Chez Reavie finished 17-under-par, four shots ahead of Keegan Bradley (67) and Zack Sucher (67). Reavie tied for third the week before at the U.S. Open, and continued his strong play at the Travelers Championship to secure the victory, with rounds of 65-66-63-69. His six-shot lead through 54 holes was the largest in tournament history. In the third round, Reavie went from six strokes behind the leader to six strokes ahead by shooting a record-tying back-nine 28 featuring seven birdies. On Sunday, Bradley made Reavie work for it, cutting the six-shot difference to just one after making a birdie on the 15th hole. After both players – paired together in the final group – made pars at No. 16, Reavie birdied the par-4 17th, while Bradley made a double bogey. The three-shot swing gave Reavie breathing room on the last hole.

2018 Travelers Championship
Facing a six-stroke deficit with 18 holes to play wasn't new to Bubba Watson. Overcoming that kind of final-day deficit to win the Travelers Championship wasn't new, either. Watson shot a 7-under-par 63 at TPC River Highlands on Sunday, taking the outright lead with a birdie on No. 18 and ultimately winning the 2018 Travelers Championship by three shots. It gives Watson three victories in the tournament; he claimed his first PGA TOUR win here in 2010, then added another in 2015. Both of those came in a playoff.

2017 Travelers Championship
Making his Travelers Championship debut, Jordan Spieth opened the tournament in style, firing a 63 to grab the lead. Spieth held the outright lead after each of the first three rounds (63-69-66), but was caught on Sunday when Daniel Berger pulled even with two late birdies on the back nine. Both players made up-and-down par saves from the greenside bunker on the 72nd hole to stay at 12-under. For the fifth time since 2007, when Travelers became title sponsor, the Travelers Championship would go into a playoff. On the first extra hole, Spieth's drive clipped a tree but the ball bounced into the fairway, while Berger drove into the left rough. Spieth's approach would land in the same greenside bunker as earlier. Faced with a 20-yard bunker shot, Spieth would claim the Travelers Championship with one unforgettable swing. He holed out from the bunker for birdie, and followed with one of the best celebrations in Travelers Championship history, joyously tossing his club and jumping up and chest bumping caddie Michael Greller. Berger's birdie putt to tie slid past the hole, giving Jordan Spieth his 10th PGA TOUR victory before the age of 24, this one in wire-to-wire fashion.

2016 Travelers Championship
On a record-setting Sunday, Russell Knox's consistent play placed him atop the leaderboard. Opening with 67-67, Knox was one stroke behind the leaders heading into moving day. Knox shot a third-round 64 to secure a spot in the final group on Sunday, three strokes behind Daniel Berger. Back-to-back birdies on Nos. 13 and 14 pushed Knox in front, but a bogey at No. 16 and a final-round 64 by Jerry Kelly added to the drama. With a one-stroke lead heading to No. 18, Knox dug deep. After landing his approach shot in a bunker, Knox hit out to 12 feet and faced a par putt for the win. The 12-foot putt was perfect, giving Knox his second PGA TOUR victory and first on American soil. The final round produced the first 58 in PGA TOUR history, but Knox's consistency from start to finish ultimately separated him from everybody else. In his fifth appearance at TPC River Highlands, Russell Knox would leave as the 2016 Travelers Championship winner.

2015 Travelers Championship
Playing well all week, Bubba Watson opened with rounds of 62-67-68 to trail the leader by one entering the final round of competition. Watson birdied the first two holes on Sunday to set the tone early. He played steadily throughout the day, making mostly pars and minimizing his mistakes, which forced the other players to chase him for the lead. On the 13th hole, Watson sank a 40-foot eagle putt to give himself a small cushion at the top of the leaderboard. With players on the course in hot pursuit of Watson, he bogeyed 17 and Paul Casey posted a score of 16-under par tying Watson and becoming the leader in the clubhouse. Watson made par on his final hole in regulation, sending him into a playoff with Casey. After both players made par on the first playoff hole, Watson birdied the second hole of sudden-death to claim his second Travelers Championship victory and eighth career PGA TOUR victory overall.

2014 Travelers Championship
Kevin Streelman played spectacular golf his final two rounds to claim his second career PGA TOUR victory at the 2014 Travelers Championship. Following a third round 64, Streelman entered the final round four strokes back of the leader. Sunday's round proved to be anything but typical. After shooting one-over par 36 on the front nine, Streelman told his caddy that he needed to shoot 29 on the back nine to "make some noise." At that point, Streelman was tied for 20th, five strokes back of the leader. He was chasing proven PGA TOUR winners and up-and-coming talent. Streelman then went on to play flawless golf on the back nine shooting a seven-under par 28 for a final round 64. He finished his round with seven consecutive birdies to win the tournament, breaking a PGA TOUR record that dates back to 1956. When asked about his record-setting accomplishment, Streelman replied, "I'm a little shocked, but to do it in that fashion is something I'll never forget."

2013 Travelers Championship
Entering the final round, the top of the leaderboard was filled with up-and-coming talent, proven TOUR winners and recent major champions. Ken Duke made eight pars and a birdie on the front nine, but the momentum switched once he arrived at the 10th hole. With 138 yards to the flagstick, Duke pulled his next shot and as it looks to head into the hazard, it hits off the trees and ends up five feet from the hole. He converted the birdie putt and went on to card a 32 on the inward nine to post as the leader in the clubhouse. After Chris Stroud chipped in on the 72nd hole to force a sudden death playoff, Duke eventually prevailed with a birdie on the second playoff hole for his first win on the PGA TOUR in his 187th start.

2012 Travelers Championship
Marc Leishman entered the final round six shots off the lead. After telling his caddie prior to the Sunday round he felt like he needed to shoot a 61 to get into contention, he fired an 8-under-par 62 to post 14-under. After waiting more than 2 hours for the rest of the field to finish, his score was strong enough to hold off one of the strongest fields in tournament history. This marks only the fifth time an international player has won the tournament in the 61 year history. In addition, the win marked the fifth time in seven years that a first-time winner has won the Travelers Championship.

2011 Travelers Championship
Fredrik Jacobson clinched his first PGA TOUR victory by shooting a final round 66 at the 2011 Travelers Championship. He came to the 72nd hole needing a par to win. He hit a perfect drive and followed with an approach to 13 feet, before two-putting for the victory. Jacobson's total score of 260 was the third best in tournament history. He was steady the entire tournament with 21 birdies and only one bogey over four rounds. Jacobson became the fourth first-time PGA TOUR winner at the Travelers Championship in the past six years, joining Bubba Watson, Hunter Mahan and J.J. Henry.

2010 Travelers Championship
Bubba Watson trailed by six-strokes heading into Sunday, but shot a final round 66 to finish in a three-way tie at 14-under par with Scott Verplank and Corey Pavin. On the first playoff hole, Watson nearly holed out from the fairway on his second shot into No. 18, as the ball finished one inch from the cup. His tap-in birdie was matched by Verplank, while Pavin was eliminated with a par. The second playoff hole was moved to the par-3 16th hole where Verplank failed to make par from behind the green and Watson made a two-putt par to earn his first career PGA TOUR victory. It was the 20th sudden death playoff in tournament history and first two-hole playoff since 1998.
2009 Travelers Championship
Kenny Perry shot a tournament-record 258 (22-under par) to earn his 14th career PGA TOUR victory. The 48-year-old Perry held a five-stroke lead heading into the final four holes on Sunday, but had to fend off a late charging Paul Goydos who eagled no. 15 and made birdie on the 16th. Perry then answered and put the tournament away on the 17th hole after hitting his approach shot to 8-feet and making birdie.

2008 Travelers Championship
In an exciting finish that kept fans watching and waiting right up to the final putt, Stewart Cinkearned his fifth PGA TOUR victory at the 2008 Travelers Championship. Leading by one stroke as he approached the final hole, Cink drilled a 366-yard tee shot, the longest drive of the tournament's final round, right into the crowds lining the 18th hole. He recovered from the drive, made par and finished 18-under-par for the tournament. His score of 66-64-65-67-262 marked a new personal best for 72 holes. Cink got his first PGA TOUR victory at this tournament during his rookie year in 1997, which allowed him to join the elite company of just five other players who had had multiple wins at Connecticut's PGA TOUR event- Billy Casper (1963, 1965, 1968, 1973), Arnold Palmer (1956, 1960), Peter Jacobsen (1984, 2003), Paul Azinger (1987, 1989) and Phil Mickelson (2001, 2002).

2007 Travelers Championship
The inaugural Travelers Championship was one for the history books, with Hunter Mahan and Jay Williamson battling each other and the challenging TPC River Highlands course for their first PGA TOUR victory. On the final hole of regulation, Williamson put his second shot about 12 feet from the hole. Not to be outdone, Mahan put his between Williamson's and the hole. Williamson two putted, while Mahan sunk the birdie to send the Championship to a sudden death playoff. In a repeat of the last hole in regulation, both Williamson and Mahan hit the fairway with their tee shots. Williamson's second shot finished about where Mahan's was the last time they played the hole. Mahan lofted a nine-iron to within two feet and when Williamson missed the birdie putt, the Championship was Mahan's with a tap-in birdie putt.

2006 Buick Championship
Fairfield, CT native J.J. Henry lead by 2 after the third round. He also won the AstraZeneca Charity Challenge and for his performance, AstraZeneca and donated $100,000 to the American College of Gastroenterology on behalf of Henry and the Buick Championship.

2005 Buick Championship
Brad Faxon continued the storied tradition when he tied the course record by shooting 61 on Sunday. That score put him 14 under par and into a tie with TJaart Van der Wald. Brad birdied the first hole of the sudden death playoff to win his seventh PGA TOUR event.

2004 Buick Championship
Woody Austin calmly made a six-foot birdie putt on the first playoff hole to defeat Tim Herron and earn the first-place prize of $756,000 – the largest check in his nine-year PGA TOUR career.

2003 Greater Hartford Open
Peter Jacobsen shot a 3-under-par 67 on Sunday for a two-stroke win at the Greater Hartford Open, his first PGA TOUR title in eight years. Jacobsen, who also won the tournament in 1984, had a share of the lead for all four rounds and led by one stroke after 54-holes. He'll go down in the books as the winner of the final GHO, as the tournament was then renamed the Buick Championship in 2004. The final round of the final GHO drew more than 70,000 fans to the TPC at River Highlands. As Jacobsen's final putt dropped, his 21-year-old daughter Kristen ran onto the green and into his arms. She was a toddler the last time he won here. His $720,000 payday on Sunday was 10 times bigger than it was 19 years ago.

2002 Canon Greater Hartford Open
Phil Mickelson shot 66-64 on the weekend and came from five shots back on Sunday to become the first Canon GHO Champion to successfully defend his title, defeating Davis Love III and Jonathan Kaye by one stroke with a birdie on the 72nd hole. With what was arguably the best PGA TOUR field in the history of the GHO that included the likes of Mickelson, Love, Ernie Els, Sergio Garcia, Greg Norman, and Vijay Singh, a record 323,000 spectators turned out over the course of the week.

2001 Canon Greater Hartford Open
After shooting a career-best 61 on Saturday, Phil Mickelson seals a thrilling one-shot victory on the final hole – capping a week that saw former champions Arnold Palmer and Lee Trevino and record crowds of more than 318,000 fans celebrate the Canon GHO's 50th anniversary.

2000 Canon Greater Hartford Open
Notah Begay III sinks a pressure-packed 23-foot putt on the last hole of the tournament to beat Mark Calcavecchia – and sets a new course record.
1999 Canon Greater Hartford Open
Brent Geiberger shoots a hole-in-one, winning $25,000 on the spot and setting up his tournament victory – along with an additional $450,000.

1998 Canon Greater Hartford Open
In a playoff against Larry Mize, Olin Browne chips in from 40 feet to win his first PGA TOUR event.

1997 Canon Greater Hartford Open
Stewart Cink wins his first PGA TOUR event in Hartford and goes on to be named the PGA TOUR Rookie of the Year.

1996 Canon Greater Hartford Open
D.A. Weibring holds off Tom Kite with a final round of 67.

1995 Canon Greater Hartford Open
Greg Norman, the number one ranked player in the world at the time, sews up a tense battle with Fuzzy Zoeller with an amazing chip-in for an eagle on the par-4 15th.

1994 Canon Greater Hartford Open
100,000 final round spectators (a tournament record) watch David Frost win by one stroke over Greg Norman.

1993 Canon Greater Hartford Open
Nick Price wins the first of three consecutive victories on the PGA TOUR that summer. He was named PGA TOUR Player of the Year with a total of four wins in 1993.

1992 Canon Greater Hartford Open
In a stunning upset, Lanny Wadkins comes from five strokes back to claim the tournament victory.

1991 Canon Greater Hartford Open
Billy Ray Brown earns his first PGA TOUR victory with a birdie putt in a sudden-death playoff with Corey Pavin and Rick Fehr.

1990 Canon Greater Hartford Open
Wayne Levi shoots three 67s and a 66 to hold off four players. Levi was the 1990 PGA TOUR Player of the Year with four wins.
1989 Canon Greater Hartford Open
Paul Azinger sinks a birdie chip on the 72nd hole in a dramatic win.

1988 Canon Sammy Davis Jr. Greater Hartford Open
Mark Brooks birdies the second playoff hole, defeating Dave Barr and Joey Sindelar, to gain his first PGA TOUR win. This was also the last year of Sammy Davis Jr.'s 15-year involvement with the Tournament.

1987 Canon Sammy Davis Jr. Greater Hartford Open
Paul Azinger's 7-foot par put on the 72nd hole gains him victory over Wayne Levi and Dan Forsman. Azinger was named PGA TOUR Player of the Year in 1987 with three wins.

1986 Canon Sammy Davis Jr. Greater Hartford Open
Mac O'Grady's final round 62 forced a playoff with Roger Maltbie. O'Grady's par on the first playoff hole clinched the victory.

1985 Canon Sammy Davis Jr. Greater Hartford Open
Phil Blackmar birdies the first playoff hole to grab the win over Jodie Mudd and Dan Pohl. 1985 began Canon USA's long-term involvement with the Tournament. Over the next 17 years, Canon would help the Jaycees return over $23 million to the community.

1984 Sammy Davis Jr. Greater Hartford Open
In the first tournament at the TPC of Connecticut (later renamed the TPC at River Highlands), long-time crowd favorite Peter Jacobsen captured the victory

1983 Sammy Davis Jr. Greater Hartford Open
Curtis Strange wins the "Last Blast at Wethersfield," the final year the tournament takes place at Wethersfield Country Club.

1982 Sammy Davis Jr. Greater Hartford Open
Tim Norris posts a six-stroke victory over Ray Floyd and Hubert Green.

1981 Sammy Davis Jr. Greater Hartford Open
Hubert Green wins by one stroke over Bobby Clampett, Fred Couples and Roger Maltbie.

1980 Sammy Davis Jr. Greater Hartford Open
Howard Twitty defeats Jim Simons on the sixth playoff hole to grab the victory.
1979 Sammy Davis Jr. Greater Hartford Open
Jerry McGee birdies the 71st hole for the win.

1978 Sammy Davis Jr. Greater Hartford Open
Rod Funseth fires a final-round 64 to win by four strokes over Dale Douglass, Lee Elder and Bill Kratzert.

1977 Sammy Davis Jr. Greater Hartford Open
Bill Kratzert grabs the victory over runners-up Larry Nelson and Grier Jones.

1976 Sammy Davis Jr. Greater Hartford Open
Rik Massengale wins the 25th GHO.

1975 Sammy Davis Jr. Greater Hartford Open
Don Bies defeated Hubert Green on the second playoff hole to clinch the win.

1974 Sammy Davis Jr. Greater Hartford Open
Dave Stockton earns the win with a four-stroke victory.

1973 Sammy Davis, Jr. Greater Hartford Open
Billy Casper wins by a stroke over Bruce Devlin to take home the GHO trophy for the fourth and final time. 1973 was the first year of Sammy Davis Jr.'s 16-year affiliation with the Tournament. His involvement would help attract world-famous celebrities to the GHO.

1972 Greater Hartford Open
Lee Trevino shoots 65 in the final round and defeats Lee Elder on the first playoff hole.

1971 Greater Hartford Open
George Archer defeats J.C. Snead and Lou Graham on the first playoff hole.

1970 Greater Hartford Open
Bob Murphy shoots 267, defeating Paul Harney by four shots, and then donated his $20,000 winners check back to the Jaycees, leading to the creation of the Greater Hartford Jaycees Foundation.
1969 Greater Hartford Open
Bob Lunn beats Dave Hill in a four-hole playoff.

1968 Greater Hartford Open
Billy Casper wins the ICO/GHO for the third time in six years.

1967 Greater Hartford Open
Charlie Sifford wins his first tournament. The first Tournament name change leaves the Insurance City Open in the past.

1966 Insurance City Open
Art Wall Jr. captures the title.

1965 Insurance City Open
Billy Casper defeats Johnny Pott on the first playoff hole for his second ICO victory.

1964 Insurance City Open
Ken Venturi holds off four runners-up.

1963 Insurance City Open
Billy Casper shoots a final-round 65 to win his first of four ICO/GHO titles.

1962 Insurance City Open
Bob Goalby beats Art Wall Jr. in a seven-hole playoff.

1961 Insurance City Open
Billy Maxwell defeats Ted Kroll in a seven-hole playoff.

1960 Insurance City Open
Arnold Palmer becomes the first two-time champion of the ICO


1959 Insurance City Open
Gene Littler wins his fourth tournament of the year.

1958 Insurance City Open
Jack Burke Jr. wins over runners-up Art Wall Jr. and Dow Finsterwald

1957 Insurance City Open
Gardner Dickenson wins without leading until the back nine on Sunday.

1956 Insurance City Open
Arnold Palmer wins his first PGA TOUR tournament in the U.S.

1955 Insurance City Open
Sam Snead wins by a tournament record seven strokes.

1954 Insurance City Open
Tommy Bolt posts a tournament record 60, but needed to win an 18-hole playoff over Earl Stewart to gain the victory.

1953 Insurance City Open
Bob Toski wins by one stroke over Jim Ferrier.

1952 Insurance City Open
1952 changed Hartford's history forever with the humble beginnings of a PGA TOUR golf Tournament. The Jaycees began this fund-raising event after a turtle race in 1951 had proved very unsuccessful. Ted Kroll wins the inaugural ICO by four strokes.