From the Director's Desk – March 15, 2013
admin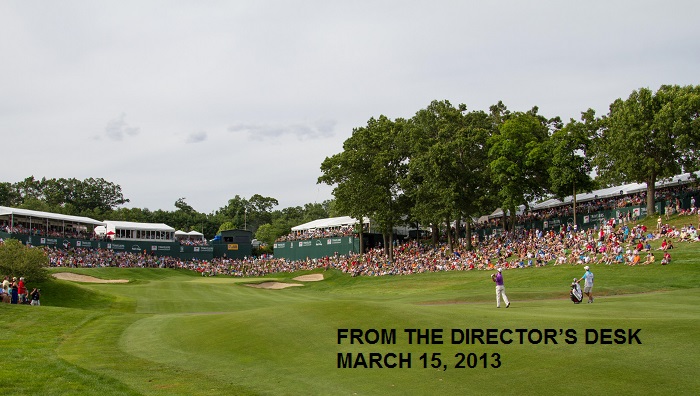 Sent by fan Todd Peters: What is your favorite hole on TPC River Highlands and why?
15 is my favorite by far. I think it offers the most risk vs. reward and it also requires the most strategy. There are so many ways to play that hole and it shows as you have everything from driver to 7 iron hit off the tee. It is a very fun hole to watch.
How does the Travelers Championship incorporate families and children into the tournament week events and activities?
We try to provide the best environment we can for families. We have been recognized as the PGA TOUR's Most Fan Friendly Event for 2 years so I think it has something to do with our Rock Wall, mini golf course, inflatable obstacle course, face painting, free concerts, kids days and free admission for those 15 and under! We try to focus on being as fan friendly as possible for the entire family.
Recently, we've seen a lot of player's switching equipment providers, most notably Rory McIlroy, Kyle Stanley and Nick Watney. How much does an equipment change effect a player's game, and, in your opinion, is it more physical or mental?
There is no doubt it has an effect. These players have their equipment so finely tuned that there is an adjustment period with any change. At the end of the day, they will tweak the look and feel of their equipment to get it exactly how they want it.
The last two Travelers Championships have been won by international players, Marc Leishman and Fredrik Jacobson. What do you think this says about today's game?
The game has definitely gone more global over the last few decades and it is no surprise that more international players are winning. It will be interesting over the next few years to see how it grows even more with the Olympics on the horizon. Teams will be coming from all over the world as golf is introduced to their various countries.