From the Director's Desk – April 30, 2013
admin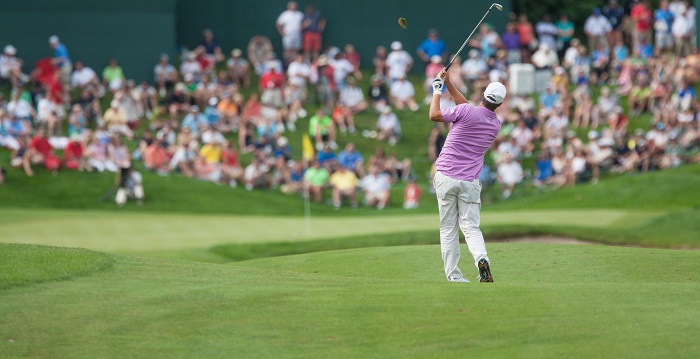 On the first day of the Zurich Classic of New Orleans, 30 players scored 4 – under or better. What type of conditions are necessary for this type of scoring, and particularly, fast or slow greens?
You will typically see these types of scores when the greens are soft from rain. If the greens are receptive, the players can aim right at the pins and not worry about the ball rolling out too much. Soft greens = lower scores.
So many legendary players from Sam Snead, Arnold Palmer to Billy Casper, have won Connecticut's PGA TOUR Event. Since becoming Tournament Director, which Travelers Champion do you think has the most potential to join that elite category?
This question is like asking a parent which one of their kids they like most! I have a connection with each of our champions in a unique way and I think they all have potential to be great. Some of the older guys (Kenny Perry, Cink) may have less time to establish a deeper record and some of the younger guys (Hunter, Bubba, Marc) have tremendous potential. Freddie is also such a consistent player and it would not surprise me at all if he won multiple majors in the next decade.
Last weekend's event, the Zurich Classic, is held in New Orleans, known for its great tourist attractions. What is it about the Travelers Championship's surrounding community that makes it so special?
The players have often commented that playing here is easy because we take care of the details. We make it comfortable for them, their caddies, their wives, their kids, the agents, trainers, etc. We try to make it feel as much like a 'home away from home' as possible. That is probably the most unique quality of our event.
The PGA TOUR season has been shortened this year, to create room for a new seasonal format. With four fewer events than normal, how does this effect players, particularly those that earned their card through Q-School or the Web.com Tour, who are trying to secure their position in the Top 125 of the money list?
If the TOUR had not made any changes to the current field regulations, it would have hurt the younger guys as they had fewer events to try and make the necessary money to keep their card. But, the TOUR did change their regulations and a few things were done. First, some of the fields were enlarged by 10 or so guys so that more players got into certain fields. Also, some exemptions were taken away from the tournaments and given to the guys in the Q school category. With these few changes, it actually will net out to about the same playing opportunities for the young guys.