From the Director's Desk – May 15, 2013
admin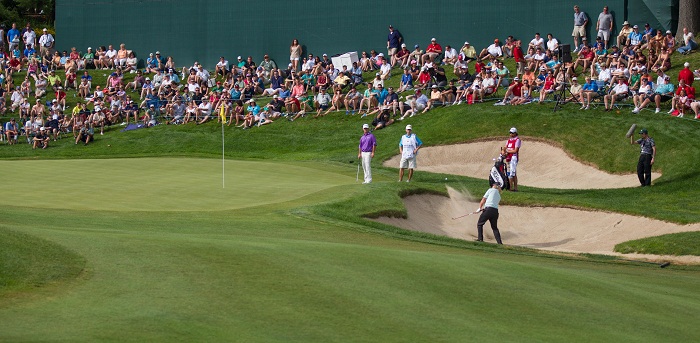 This past weekend's tournament, THE PLAYERS Championship, is considered the TOUR's 5th Major. What makes this event so important to the TOUR players, and as the "5th Major" how does that atmosphere effect a players preparation and performance?
A few things are unique about THE PLAYERS. First, the purse is the largest in golf. That will get anyone's attention! Second, the location makes it special. It is literally at the headquarters of the PGA TOUR. The players are able to meet with any TOUR representative, official or executive that they may want to meet with during that week. The crowds are also knowledgeable golf fans so that makes the atmosphere electric. Finally, the course is a true test. Each hole is unique and low numbers are possible but a double bogey is waiting if you let your guard down.
TPC Sawgrass in Ponte Vedra Beach, the site of THE PLAYERS Championship, is known for its signature hole,  the Par 3, island green 17th. What do you consider the signature hole at TPC River Highlands, and what makes the hole so unique?
I think 15 is by far the most unique hole at River Highlands. The tournament can be won or lost here on Sunday afternoon and that makes for a great hole. If you ask our hospitality patrons on 15 if they would ever give up that location from a viewing standpoint, they would never let it go.
With the Travelers Championship just weeks away, what tournament week event are you most excited about and why?
While I get very excited about a number of things Tournament Week, the event that I am most excited about takes place about 4 months after the tournament. Our charity celebration, (the event where we hand out the proceeds generated from the tournament) makes all the work that much more enjoyable. As we continue to add new events (military appreciation, 5k road race, concerts, women's day, etc) to raise additional funds for charity, it makes our charity celebration that much more special.
Yesterday the Travelers Championship announced 6 new player commitments, such as Rickie Fowler, Jason Dufner, Fredrick Jacobson, Lee Westwood, Ian Poulter and Padriag Harrington.  What do these player commitments attest to the player field, and what more exciting news can the fans expect within the next few weeks?
We are excited to welcome these guys back to the tournament. I think our fans will enjoy seeing them compete again in Connecticut. I think Leishman will have his hands full trying to go back to back this year!