From the Director's Desk – March 26, 2013
admin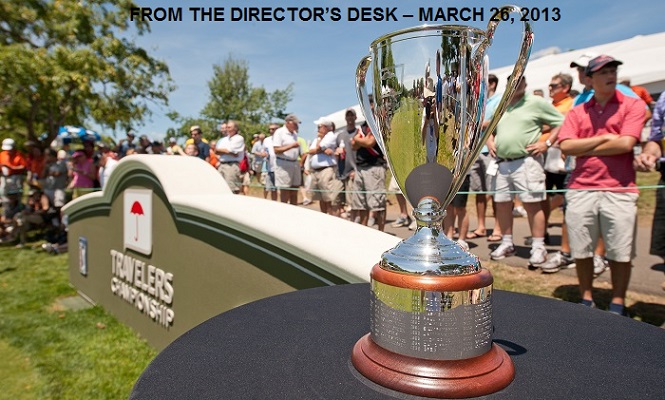 Hunter Mahan is currently 6th on this seasons money list and has finished in the top 25 in 6 straight starts entering the week at Bay Hill.  Can you comment on Hunter's greatest strengths that keep him in the top 25?
Hunter is one of the more consistent players on TOUR year in and out. He is always ranked high statistically (scoring, scrambling, greens in regulation, etc.) and that plays out well over the length of the season.
Each week viewers see key golf courses on the PGA TOUR with their own distinctive attributes. What feature makes TPC River Highlands in Cromwell, CT unique?
The best way to describe it is what the players have said. They feel that it rewards you for good shots and punishes you for bad shots. Players want a fair golf course that is a good test. TPC River Highlands consistently gives them that.  
If you could volunteer for the Travelers Championship during tournament week, what committee would you want to be a part of?
Scoring would be fun to get an inside look at the competition. Gallery, control and concessions would be entertaining  as well because you would be face to face with the crowds and see the excitement first-hand.
Coming into this past week's event the Arnold Palmer Invitational, Bubba Watson has had 29 top-25 finishes in his last 37 starts. What is it about Bubba's game that makes him finish so consistently, and what are you predictions for him this year?
Consistency with Bubba seems to be a product of him knowing his own game. If he feels like he can only hit certain shots one day, those are the shots he will hit. If he feels another way, he will play those shots. Some players fight their swing and try to fix things. Bubba doesn't fight his swing, he plays with whatever he feels that day. That brings consistency for him.