From the Director's Desk – April 4, 2013
admin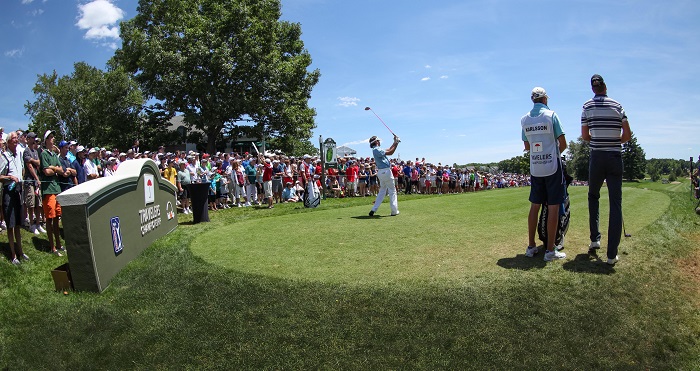 Special thanks to Danielle Silva for submitting the following question to marketing@travelerschampionship.com: "How far in advance do you start planning for the tournament?"
Typically it is about a 15 month planning cycle for the event. About 3 months before the current event, we start looking at ideas for the next year. It is never enough time! When you look at some other events that are not annual, they typically have about a 2 year planning cycle at least. With ours being every year, we only have 12 months so some of our ideas spill into the next year before we even get through this year.
Submitted by fan Christopher Perras: "How does the tournament build relationships with TOUR players and recruit them to the Travelers Championship?"
The key part of the answer to this question is building relationships. We are not really 'recruiting' in the truest sense of that word. It is getting to know the players, their wives, the caddies, the swing coaches and everyone associated with the players. We have a long list of little things we try to do for them to make our event unique. From a private charter, to daycare, to caddie dining, to contests between the players and caddies.  We try to make our event unique.
Keegan Bradley, one of the first commits to the 2013 Travelers Championship is a New England Native. Do you think that gives him additional motivation to contend at the Travelers Championship?
I think he will have a number of friends and family here that will make it feel more personal. You will see more shirts with his name on it, larger galleries following him and maybe even some face paint from some dedicated fans!
The Masters, the year's first major, is only two weeks away. How important is it to play well and gain momentum in the weeks leading up to a major? Also, reflecting back on the who would be your pick to win the Masters this year?
Momentum and game preparation are very important for the guys leading into the Majors. In fact, one of the key things this week at Valero is that they are setting up the course as close to Augusta as they can. From the green speeds to length of the rough…it will be set up to help the guys prepare for the Masters. This will help their field as the Majors are a big focus for the players. As far as my pick goes, that is always a tough question. I think the streak of American players winning this year continues and Bubba repeats as Masters champion.
We've seen a good amount of weather delays this year on TOUR, most recently the delays taken place at this past week's Shell Houston Open. What is the best way a tournament can prepare for a weather delay?
These are never fun, but with an outdoor event you have to expect the possibility of delays. We have a significant weather plan in place for a number of different scenarios and we go over these quite significantly leading into the event. Hopefully it is planning we never have to use but we are prepared nonetheless.