From the Director's Desk – April 17, 2013
admin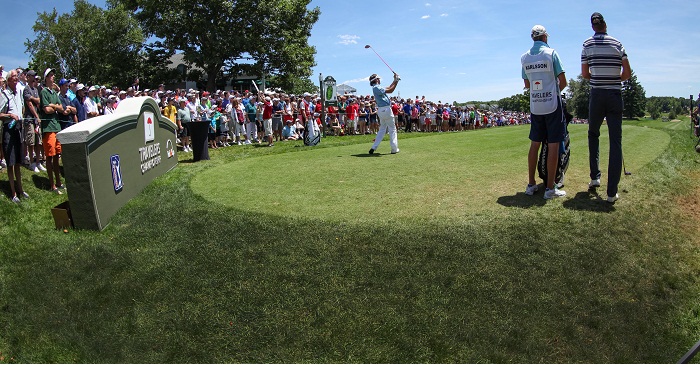 Adam Scott won his first career major on Sunday at the Masters, becoming the first Australian to win the event. After making a clutch birdie putt on 18, he went into a playoff with former Masters Champion, Angel Cabrera. How difficult is it to regain your focus and composure when going to a playoff, and what do you think Adam's performance under pressure showed the golf world?
I really just think it was Adam's time. He has paid his dues, so to speak, in so many majors that I think everyone felt it was his time. I can't imagine how difficult that must have been to compose himself after making that putt on 18. The sheer adrenaline from his excitement had to affect his physical state so much that he was probably trying to calm himself down for about 10 minutes before he teed off again. Golf is one of the few sports where you don't want to get too excited and I bet Adam was fighting that the entire time.
Marc Leishman, the 2012 Travelers Champion, gave an inspiring performance at the Masters this past weekend, finishing T-4. What impressed you most about Marc's game over the course of the tournament, and how do you think this performance will impact the rest of his season and career?
His putting really impressed me. He kept making 8-10 foot putts all day that kept him in the tournament. Until he hit it in the water on 15, he was right in the tournament. What was so classy about Marc was how much he was rooting for Adam once he knew he was out of it. I think this experience will propel him to multiple wins on TOUR in the future.
If you could choose three players, past or present, to play a round of golf with, who would they be and why?
Byron Nelson – I have heard he was one of the nicest men to ever the play the game. Everyone I have ever met had nothing but great things to say about him. I think it would have been a pleasure to hear his perspective on the game and life.
Bobby Jones – He seemed to be a very diverse individual. To accomplish what he did as an amateur and then make the decision to not become a professional…I can only imagine the pressure he felt to become a pro and it would be interesting to play Augusta with him to hear his vision for what he wanted the course and tournament to become.
Mo Norman – The stories about Mo are endless. The legendary ball striking and shot making capabilities along with his unique and quirky personality. I love one of his quotes where he says he is one of the only players that truly owns his own swing. That statement stuck with me years later when I realized I was always trying to copy someone else's swing. I realized I never owned my swing. It was unsettling. I would like to spend some time with someone who owned their own game like that.
The Par 3 contest at the Masters is a tradition that players and fans enjoy and is a welcome break from the difficulties of tournament golf. At the Travelers Championship, that break is found on the 15 ½ hole contest. What makes the 15 ½ hole contest tradition so special and unique?
As Ricky Barnes said right before he won the contest "…one shot…85 yards…ten thousand bucks….it's the most important shot of the year." It's a fun chance to raise some additional funds for charity and the players seem to like it. The caddies get their chance this year!