From the Director's Desk – March 19, 2013
admin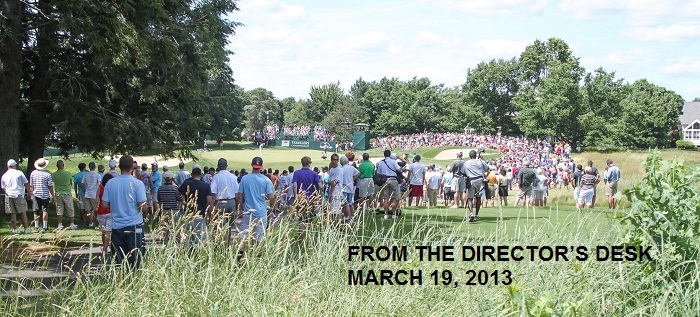 Luke Donald returned to the Tampa Bay Championship this past weekend to defend his title. Do you think being a past champion gives a player more of an advantage or disadvantage?
I think it is mostly an advantage. The player obviously likes the course and has good memories from there. The fans will always be partial to a past champion as well and he would feel the extra support and energy. The down side is that there are a lot of responsibilities for a defending champion when he comes back. More interviews, more sponsor requests, just simply more time demands. That can wear on a player if they are not used to it and could negatively affect their normal preparation.
The Travelers Championship announced on March 12 the return of Bubba Watson, Hunter Mahan, Keegan Bradley and Marc Leishman, four fan favorites.  What other exciting news can the fans be expecting?
Tournament fans have a lot more to look forward to, such as who the bands are going to be for the Friday and Saturday night concerts, what celebrities are playing in the pro-am, what speakers and guests are coming to Women's Day, celebrity mini-golf…and more player commitments!
With fans awaiting player announcements and commitments, what makes a PGA TOUR Professional want to come to the Travelers Championship, and what makes them keep coming back?
There are a number of factors that go into a player committing to a tournament. I have found that a players schedule is probably the most important thing they have to consider. What is going on in their lives, how they are playing at the moment, injuries they may be nursing, etc. I think the next thing that they consider is the golf course and whether or not they feel like they can play their best game on a particular course. Then comes their family and how easy it is to come to a tournament with them, then purse size, etc. We try to address all these issues (and more) when building relationships with players, their families, caddies, swing coaches, trainers, etc. when recruiting them to come to the Travelers Championship.
Who is one celebrity you'd like to see play in the Travelers Celebrity Pro-Am?
I would love to see Sandy Koufax back. He was such a hit and the crowd loved him. There was a hush on the tee when he was introduced. It was very cool to see.