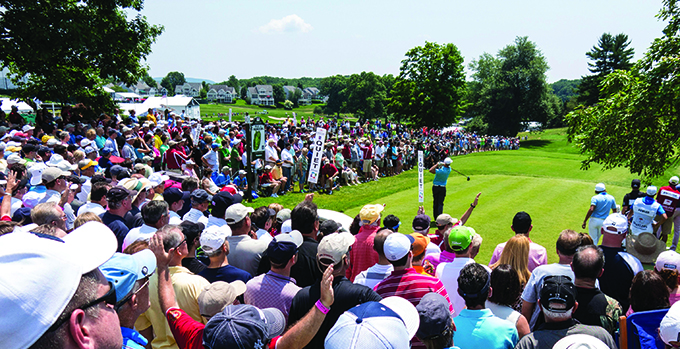 Online Orders: Simply click the word "Purchase Tickets" below and follow the steps to place your order online. Phone Orders: 1-866-840-8821
Tickets will be mailed to the address you provide in May 2015.
Orders placed after June 17, 2015 will be held at Will Call.
Please note any tickets purchased after June 21, 2015 will be sold at gate price listed below.
Prices below are for the 2015 Event.
General Admission

Purchase Tickets 
Ticket Options
Advance Purchase
(Before 6/21)
Tournament Week
(After 6/21)
Weekly Grounds Badge
(Valid Mon.-Sun.)
$85
N/A
Any One Day
(Valid Mon.-Sun.)
$32
$42
Any One Day Senior
60 and over
(Valid Mon.-Sun.)
$27
$32
Practice/Pro-Am Round Any One Day
(Valid Mon.-Wed.)
$27
$32
Practice/Pro-Am Round Any One Day Senior
60 and over
(Valid Mon.-Wed.)
$23
$28
Kids 15 and Under
Free admission with a ticketed adult.
Pick up tickets at gate.
FREE
FREE
General Admission Ticket Packages

 Purchase Tickets 
Advance Purchase
(Before June 21)
Tournament Week
(After June 21)
Any One Day 10 Pack
$240
N/A
Any One Day 10 Pack with 5 Lot B Daily Parking
$270
N/A
Premium Individual Tickets

 Purchase Tickets 
Daily Price
Weekly Price
Champions Club Select Specific Day
(Wed.-Sun.)
The Champions Club offers complimentary food and full-service bar for guests to enjoy in a climate-controlled venue. In addition, the venue includes open-air stadium seating for guests to enjoy spectacular views on the 18th green. Each Champions Club ticket includes a Lot B Parking Pass.
$250
$1,000
Michelob ULTRA 19th Hole Sponsor Club
Valid Any One Day
(Wed.-Sun.)
One of the most popular networking venues, the Michelob ULTRA 19th Hole Sponsor Club will now offer guests a climate-controlled venue, with open-air seating overlooking action on the 18th hole. The Michelob ULTRA 19th Hole Sponsor Club features an upgraded concession area where food and beverage is available for purchase.
$85
N/A
Michelob ULTRA 19th Hole Sponsor Club Ticket Packages

One of the most popular networking venues, the Michelob ULTRA 19th Hole Sponsor Club will now offer guests a climate-controlled venue, with open-air seating overlooking action on the 18th hole. The Michelob ULTRA 19th Hole Sponsor Club features an upgraded concession area where food and beverage is available for purchase.

 Purchase Tickets 
Price
Eagle

90 Michelob ULTRA 19th Hole Sponsor Club Tickets, each valid any one day,
(Wed.-Sun.)
45 Lot B Daily Parking Passes, each valid any one day
$900 in Food and Beverage Vouchers

$6,000
Birdie

50 Michelob ULTRA 19th Hole Sponsor Club Tickets, each valid any one day,
(Wed.-Sun.)
25 Lot B Daily Parking Passes, each valid any one day
$500 in Food and Beverage Vouchers

$3,750
Par

20 Michelob ULTRA 19th Hole Sponsor Club Tickets, each valid any one day,
(Wed.-Sun.)
10 Lot B Daily Parking Passes, each valid any one day
$200 in Food and Beverage Vouchers

$1,700
Parking and Food & Beverage Vouchers

  Purchase Tickets 
Advance Purchase
(Before June 21)
Tournament Week
(After June 21)
Lot B
$8
$10
Weekly Lot B
$45
N/A
Food & Beverage Voucher
$10
N/A
Military Appreciation Tickets

  Purchase Tickets 
Advance Purchase (Before June 21)
Tournament Week
(After June 21)
Active, Reserve and Retired Military Service Members
Complimentary admission all week for Military Service Members and their dependents. Click above to order and an E-Ticket will be sent to you via email. Everyone MUST present their E-Ticket and a valid Common Access Card or retired ID Card at the gate. Ticket also includes complimentary access into the Patriots' Outpost, an exclusive Military Hospitality Venue on course.
Complimentary
Complimentary
United States Veterans  |  Chip In Ticket
U.S. Veterans will receive an Any One Day Ticket for $20, provides access to the course and the Patriots' Outpost, an exclusive Military Hospitality Venue on course. Also, 50% of each ticket sold will be donated to Birdies for the Brave, a PGA TOUR military outreach charity.
$20
$20